The mission of The West African Centre for Cell Biology of Infectious Pathogens, University of Ghana (WACCBIP) is to conduct cutting-edge research and spearhead innovation to guide development of new approaches to disease diagnosis, prevention, and control. The priority pathogens include protozoans causing diseases such as malaria and trypanosomiasis; Mycobacteria, causing tuberculosis and Buruli ulcer; other bacteria causing gastro-intestinal and blood infections; and viruses, including HIV, rotaviruses, Influenza, and Dengue. For each of the priority diseases/pathogens, research is organized into five themes:
disease pathogenesis and immunity,
pathogen genomics/bioinformatics,
host genetics/genomics, host/pathogen interactions,
molecular diagnosis, molecular epidemiology for surveillance,
target discovery for drug and vaccine development.
There are also emerging themes in etiology of febrile illnesses in children, maternal health, and human genetics (infectious and non-communicable).
Continuously improving our research environment, WACCBIP has developed a Core facility to serve as a hub for collaboration among scientists in the sub-region with access to modern research equipment for analysis of samples and other services at reasonable cost.
Services to  provided by the Core include high-throughput multi-color flow cytometry and cell-sorting, mass spectrometry, gene expression assays, primer synthesis, and expression and purification of proteins. In addition, the WACCBIP Core operates a laboratory supplies store, and build capacity and expertise for servicing and repair of equipment.
The WACCBIP Core facility also include a biomedical high-performance computing unit (BHPCU) to provide access to cluster computing services, and scientific software for data analyses, modeling/simulation, and information dissemination.
---
Site Director
Professor Gordon Awandare, Professor/Director, West African Center for Cell Biology of Infectious Pathogens (WACCBIP)
+233 54 371 7697
gawandare@ug.edu.gh; gawandare@hotmail.com
Prof. Awandare is the Director of West African Center for Cell Biology of Infectious Pathogens (WACCBIP ). His research focuses on the pathogenesis of Plasmodium falciparum malaria in children. There are two main branches of investigations, namely the role of the host immune response on one hand, and the mechanisms used by the parasite to propagate itself and cause disease. From the perspective of the host, we have been investigating the production of inflammatory mediators and the relationship between genetic variation in innate immune response genes and susceptibility to severe malaria in children. Our research on the Plasmodium parasite is aimed at gaining a better understanding of the mechanisms used for invasion of red blood cells. Therefore, a substantial aspect of our research efforts focus on characterizing the sialic acid-independent pathways of invasion and identifying novel receptors and ligands involved.
---
Site Mentors
Dr. Yaw Asare Afrane, Associate Professor
+233 (0) 54 228 6113
yafrane@ug.edu.gh
Yaw Asare Afrane is trained in malaria vector and parasite biology and epidemiology with over 15 years of research experience in vector borne diseases. The focus of his research is on the ecology of malaria vectors and the Plasmodium parasite they transmit. He is currently studying how insecticide resistance affects the fitness of African malaria vectors and their vectorial capacity. Further, he is studying the interaction between resistant malaria vectors and anti-malaria drug tolerant malaria parasites to understand the potential for parasites to evolve drug tolerance by studying genetic variation. His studies are funded through an NIH/NIAD RO1 (R01AI123074). He has authored 45 peer-reviewed publications.
Professor Koram Kwadwo Ansah, Professor of Epidemiology
kkoram@noguchi.ug.edu.gh
Professor Ansah's work in rural and deprived communities in Ghana at the beginning of his medical career exposed him early to the challenges of mounting an effective public health response to the high burden of infectious diseases if one is to make a significant contribution to the improvement of health in the country. His broad training in epidemiology and public health with practical hands-on training at the MRC Labs in The Gambia allowed him to develop skills in all aspects of large-scale epidemiologic research, including field organization, data management, and analysis, especially as it relates to vector-borne diseases. Since returning home after my doctorate, Professor Ansah has worked at the Noguchi Memorial Institute for Medical Research (NMIMR) as an infectious disease epidemiologist and, most recently, as the Director NMIMR.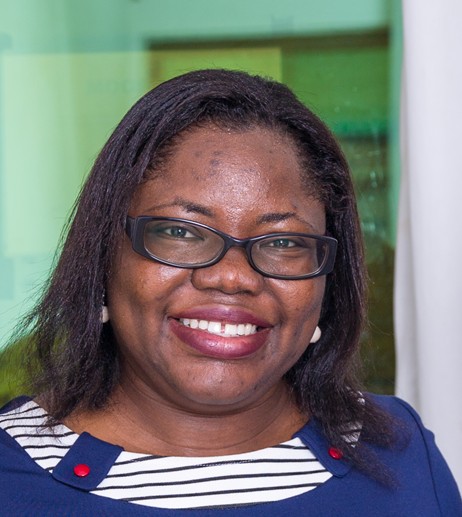 Dr. Lidya Mosi, Senior Lecturer, Microbiology and Molecular Biology, University of Ghana
lmosi@ug.edu.gh
Dr. Mosi's primary research focus is Buruli ulcer, a necrotizing skin disease caused by Mycobacterium ulcerans. Her lab utilizes multidisciplinary approaches: in silico genomics; functional laboratory studies to investigate gaps in transmission to identify the niche of M. ulcerans and other mycobacteria in the natural environment; and the development of rapid diagnostic and intervention strategies for Buruli ulcer disease. Additionally, she works on characterization of secondary microbial infections in Buruli ulcer lesions and the determination of antimicrobial resistance in microbes from patient and environmental samples. She has extensive experience in both lab and field work.
Dr. Osbourne Quaye, Associate Professor
+233 (0) 303 933 223;
oquaye@ug.edu.gh
 
Dr. Osbourne Quaye is the Head of the Virology Laboratory of the West African Centre for Cell Biology of Infectious Pathogens (WACCBIP) and very much interested in all viruses as pathogens. His research group currently works on gastrointestinal viruses including rotaviruses, noroviruses and adenoviruses to understand the influence of sanitation and zoonotic transmission on disease burden, virus diversity, and vaccine efficacy. The group also works on HIV latency and drug discovery, host genetic polymorphisms in hepatitis B, C and D infections, and the surveillance of filoviruses in bats, Epstein Barr and yellow fever viruses. Dr. Quaye is a Senior Lecturer at the Department of Biochemistry, Cell and Molecular Biology and the Head of Monitoring and Evaluation at WACCBIP, University of Ghana, Legon. He has an M.Phil. degree from the University of Ghana, Legon and a Ph.D. from the Georgia State University, Atlanta, GA. His research carrier as a Molecular Virologist started at the Centers for Disease Control and Prevention (CDC), Atlanta, GA as a Microbiologist in Molecular Virology.
Dr. Elvis K Tiburu, Associate Professor of Biophysics
+233 (0) 55 958 5194
Tiburue@gmail.com; etiburu@ug.edu.gh
Dr. Elvis K. Tiburu is an Associate Professor of Biophysics, and his research is focused on developing biological interphase materials for drug delivery to cancer tumors. His laboratory is also engaged in developing sensing devices for various biomedical applications, including cancer detection. Over the years he has developed expertise in bioinstrumentation, cell signaling, and biomaterials synthesis with specific training in material synthesis, bioinformatics, big data and sensor development. Dr. Tiburu obtained his PhD from Miami University specializing in Biophysics in 2004.  He then went to Beth Israel Deaconess Medical Center, Harvard Institutes of Medicine in Boston, USA to pursue postdoctoral training in Professor Jerry Goopman's Laboratory. After three years at Beth Israel Deaconess Medical Center, he joined the Center for Drug Discovery, Northeastern University as an Assistant Research Professor. His responsibility at the time was to investigate the structure of G-protein coupled receptors and identify key binding sites for drug discovery purposes to treat drug abuse patients. He was a Visiting Scholar in 2012 to the Department of Biomedical Engineering, sponsored by the Carnegie Corporation of New York. During his stint as Visiting Scholar, he helped developed Graduate programs in the School of Engineering Sciences.
Professor Dorothy Yeboah-Manu, Professor and Head of Department in Bacteriology
dyeboah-manu@noguchi.ug.edu.gh
Dr. Yeboah-Manu has worked in mycobacterial disease research for the past twenty-one years. The Department of Bacteriology at Noguchi Memorial Institute for Medical Research, where she is based, acts as the national reference laboratory for tuberculosis and Buruliulcer. The department works to improve the quality of care for both diseases in addition to several bacterial diseasesin Ghana. Dr. Yeboah-Manu's work in TB sought to establish the burden of Mycobacterium africanum (Maf) as a causative agent of TB in Ghana, determine epidemiological associations including potential risk factors for infection, the transmission dynamics of TB and analyze for genomic diversity and drug resistance prevalence as well as target mutation between M. tuberculosis and Maf. The goals of her research in BU have been to improve laboratory diagnosis and therapy by analyzing causes of recurrence or treatment failure aswell as understanding the ecology of M. ulcerans (Mu) as the mode of transmission has not yet been elucidated.